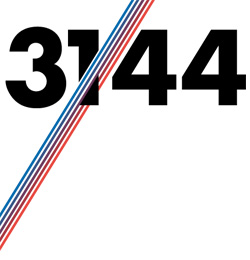 1801 Gorsaf Dân
Located on a steeply sloping site in north Wales, this new-build home for a retired couple is of a robust brick construction with large windows on its southern elevation to create a light and open interior that enjoy views above the treetops and across the river valley below. 
The brick structure appears as a resistant outcrop emerging from the sloped ground and peeking through the trees. The detail of the architecture references a now lost historic bottling plant that used to stand nearby, while the spirit of the house harks back to the area's late 19th/early 20th century heyday as a spa destination and rural escape from the city. 
The main living spaces – a fluid and open sequence of rooms and outdoor terraces – are located on the top floor to take full advantage of its rural hillside setting. By stepping the building down the hillside, each floor has direct access out to the rambling garden. What might seem from the road like an impressive brick edifice is nestled carefully into its site, creating a light and bright home that is every bit a part of its welsh hillside setting.
The scheme received planning permission in late 2018 and will commence on site during the summer of 2019.