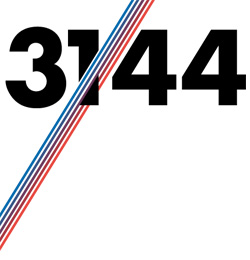 31/44 Architects is a London-based architectural practice headed by Will Burges and Stephen Davies. 31/44 refers to the practice's two studio locations in the Netherlands (Amsterdam) and the UK (London) when founded in 2010. Now based solely in London, near Brick Lane, the practice currently comprises a team of nine architects and architectural assistants.
Projects range in scale from strategic masterplanning through to smaller-scale residential work. Completed projects include a family home in the Netherlands, a mixed-use retail and hotel building in Shoreditch, and a number of one-off individual homes around London. The practice has also recently caught the attention of the architectural press, garnering nominations and awards for No. 49 and Red House.
Projects are characterised by a thoughtful response to context, conceived not in isolation, but growing instead out of the particular conditions of each setting. This results in buildings with an inherent connection to their site whilst ensuring they are also a close reflection of clients' requirements. 
A careful attention to detailing and craftsmanship is common to all 31/44 projects, with each drawn, tested and coordinated through CAD and physical models. We have assembled strong consultant partners with which to deliver our projects, ensuring economic, robust and thoughtful buildings.
31/44 have taught an undergraduate studio at Kingston School of Art and Architecture since 2010 and are regular professional practice examiners at a number of architecture schools. Teaching has become a fundamental part of the practice; the constant articulation of ideas, observations and proposals required in the teaching studio also enriches the design studio. It is an essential discipline that continues to help define 31/44.
Awards and recognition
2019
EU Mies van der Rohe Award – nominee for Red House
2018
The Manser Medal – Red House
RIBA Stephen Lawrence Prize – shortlisted for Red House
RIBA London Small Project of the Year – Red House
RIBA London Award – Red House
RIBA House of the Year – shortlisted for Red House
British Homes Awards, Small House of the Year – shortlisted for Red House
Brick Awards, Individual House –  Red House
2017
RIBA National Award – No. 49
RIBA London Small Project of the Year – No. 49
RIBA London Award – No. 49
RIBA House of the Year – longlisted for No. 49
BD Young Architect of the Year – shortlisted
Architects' Journal House of the Year – shortlisted for Red House
Architectural Review Emerging Architecture Prize – shortlisted
2016
New Architects 3 – selected for the Architecture Foundation's book showcasing Britain's best emerging practices.
Wallpaper – selected for the Architects' Directory as one of 20 global breakthrough practices.
Publications
2019
'Making Marks: Architects' Sketchbooks – the creative process', Will Jones, Thames & Hudson, February
RIBA Journal, 'Steady Does It', 8 January
2018
Brick Bulletin, Red House, 18 June
RIBA Journal, 'Red House, South East London', 15 May
Wallpaper, 'Park and recreation', 19 January
2017
The Architectural Review, 'Sense of an ending', 3 November
DETAIL Blog, 'The End of a Long Series', 12 September
Dezeen, '31/44 Architects builds grey-brick house around three small courtyards in London', 22 July
The Architects' Journal, '31/44 Architects adds contemporary red-brick house to traditional London terrace', 15 July
The Architects' Journal, 'Defying convention: 31/44 Architects' Red House', 7 July
Dezeen, 'Grey brick Amsterdam townhouse by 31/44 Architects', 3 January
2016
Blueprint, 'New build in historic canal city', November/December
inhabit, '31/44 Architects, House in Lewisham', Autumn
Dwell, 'New Kid on the Block', 13 August
2013
The Guardian, 'Interiors: squares need not apply', 15 February